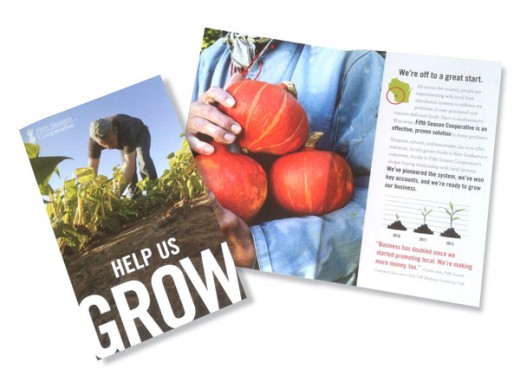 Fifth Season Cooperative is now delivering locally grown foods to hospitals, schools, nursing homes, and restaurants within a 150 mile radius of Viroqua. Since Reinhart Foodservice joined the uniquely structured co-op to become their primary distributor, Fifth Season's future looks more promising than ever. This is because Reinhart is already delivering to the institutions that Fifth Season wants as customers, so it's a win/win situation. Reinhart can now offer fresh and local, and Fifth Season has a direct line into some big customers in Rochester, La Crosse, Madison, Eau Claire, Platteville, and Winona, to name just a few.
As in any business, unbridled growth can be as much a curse as a blessing. Supply and demand must be balanced so as not to over-promise and under-deliver. That's why Fifth Season now requires additional capital to increase infrastructure and staffing as soon as possible. They're poised for growth and they're now offering preferred stock with a 5% annual return.
The Whereabouts team was eager to help Fifth Season with their capital campaign because of all the values their co-op represents. We created the brochure as a leave-behind for board members to hand out after making their appeals to gain financial support. An accompanying PowerPoint presentation was provided to make their pitches as colorful and simple as the brochure.
The stock offering is available only to Wisconsin residents, with a minimum investment of $500. Supporting this business helps more than their region. It helps to build a model from which our entire nation can learn. For more information, contact Fifth Season Cooperative at 608-638-2667.