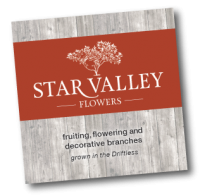 Star Valley Flowers is the largest entirely field-grown cut flower producer in the Midwest – with no greenhouses, minimized fossil fuel use, and stringent soil conservation practices for their hilly terrain. Their permaculture approach to flower farming allows them to harvest and ship through all four seasons of the year.
The identity, website, and print materials we created for them tell the domestically-grown story behind their beautiful, fresh products. Geared entirely to retailers, distributors, and wholesalers, we made selection and ordering as simple as possible for those people. We did it by interviewing their key customers to find out what they love about Star Valley Flowers and what would make their lives easier.
The website we created includes an easy-to-update list of THIS WEEK'S PRODUCTS plus pricing that's visible only to registered customers. The site also features stories about every employee – the incredible people who work the magic at Star Valley Flowers.

We created print materials to bring Star Valley's personality to everything from invoicing to trade shows.
We got spoiled working for a business with so much beauty!